I saw a post on Jenna Rayburn's blog,
Speech Room News
, about what to get SLPs for Christmas and thought that was such a good idea! I took a more selfish spin on it and created a therapy Christmas wish list for
myself
, rather than for others. It's fun to dream, right? Here are the top 10 therapy materials I have on my Christmas wish list this year (in no particular order)!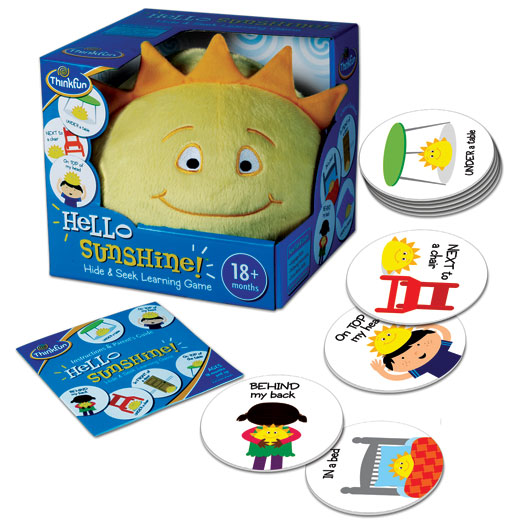 Seriously, how much more fun can working on prepositions get? I saw this at the Janelle Publications booth while I was ASHA and immediately wanted it. It is a sunshine plush that contains a pocket to hold prepositions cards. You can hide Sunshine and have kids find him and tell where he was hiding. Any time I can incorporate play into practice is great!
I saw a demo of this about a year ago at a technology conference and then ran into it again at ASHA. This app is so practical and functional it's amazing it had not been thought of before. I'd love to have it at my finger tips to trial with my kiddos. You can use real life images and create "hotspots" for requesting and students are also able to form sentences using this app. Learn more about it by clicking the link above.
Once upon a time, in college, I did own this book, and being a desperate poor college student at the time, I sold it back to the bookstore once the semester was over. Now I am completely kicking myself. How handy would this be?
I use literacy activities a lot in therapy and this book would be perfect to use in December! It's such an imaginative book and a classic. How fun would it be to wrap up a unit on this book by making hot chocolate (hello, sequencing activities!) and watching clips from the movie?
I am need of a timer that has visual representation. This would be great to use for 5-minute kids!
6. Ooga Booga
I love Blue Orange games and they just came out with this new gem. Each card has part of a chant either through words or gestures. Players take turns laying out a card and repeating the chant from the start. Not only does this work on memory, but this would be great for articulation carry over!
7. Smart but Scattered
I have a strong interest in executive function skills. Peg Dawson, one of the authors, did a professional development seminar at the agency I work at and it was amazing! I would love to continue learning about how we can support students with executive dysfunction.
8. Mr. Potato Head
Why do I not own this already? It is a staple in any SLP's closet.
9. Deluxe Happy Handle Stamp Set
I prefer stamps over stickers because you don't have to repurchase! I have used stamps in the past for reward after a good session. It's also more fun than using the paint daubers (not to mention less messy).
10. Bowling Friends Preschool Playset
One of my placements this year is in a preschool program specifically for kids with behavior goals. I'm slowly learning that play based therapy and gross motor activities are essential in holding my kiddos' attention. This game could target so many skills! I've seen other SLPs place articulation cards under each pin so when students knock down pins, they have to say the target word. We could also work on describing which pin you knocked down, prepositional phrases, and following directions (when you set up the pins).
What is on your SLP Christmas wish list?
Happy Speeching!
-Courtney